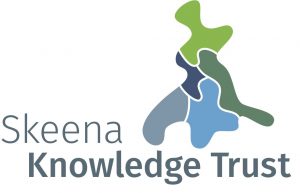 Eclipse provides administrative and operational services to the Skeena Knowledge Trust, a purpose trust working to increase public knowledge of salmon ecosystems in the Skeena watershed. Services have included fundraising, project management, and communications.
The Skeena Knowledge Trust (SKT) is a purpose trust and registered Canadian charitable organization formed in September 2017 following multi-year collaboration between the Bulkley Valley Research Centre, Office of the Wet'suwet'en, SkeenaWild Conservation Trust, and the Pacific Salmon Foundation in order to address the need for greater knowledge management and more informed decision making pertaining to salmon and salmon habitat within the Skeena River watershed and estuary.
The purpose of the SKT is to provide public education on salmon and salmon habitat in the Skeena River watershed with the overarching goal of promoting sound decision making by ensuring that land-use decisions relevant to salmon ecosystems are made using the best possible information.